OK, really, I am not trying to put off this month's project. It's just these darn taxes are making me crazy.
Yes, I know. It's April 14th and my (business) taxes aren't done. So shoot me.
Hey, you wanted to know what owning a scrapbooking business was like, well I guess that involves the not so fun stuff too...
Like figuring out the cost basis (confession: I didn't actually know what a cost basis was, I had to look it up) of a business vehicle only to realize I didn't have to include the cost basis because the car was sold in 09 not 2008...you make one little mistake (well, it didn't ask me when I sold it, just if I sold it! so much for easy interviews...)
Only turbo tax wouldn't let me take that part out, so I had to delete the entire vehicle and re-add it back in.
Still not done. I don't know what the interest is that I paid in 2008 because since I sold the car, I no longer have an online account to request it, so I have to call them and hope they give it to me....
Then on to state taxes. They wanted to know had I purchased out of state product that I didn't pay tax on. Um hello! Only ALL my inventory. Only I already paid the use tax on it, so why are they asking me that again? goofy I tell you.
And the kicker? My state sales tax and use tax is due toe 20th. pppffft!
On the flip side. My sister, a brand newly converted scrapbooker sent me her second layout tonight, and it was to DIE for. I mean, does THIS look like like the work of an amateur or a newbie? I think not. Guess who the newest member of my design team is?!!!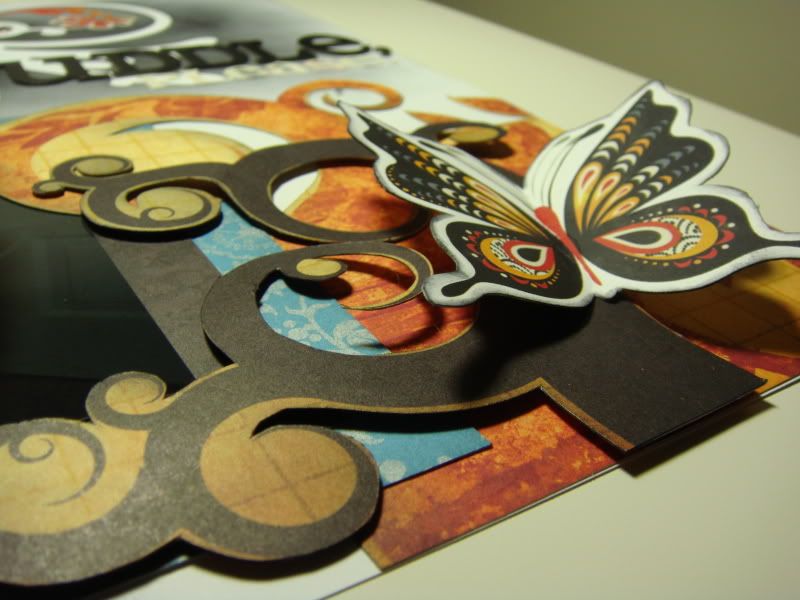 Products used:
Tim Holtz Flourish mask
,
Ambrosia rub ons
, Pink paislee Vintage Moon -
Moon Glade paper
,
Creative Imaginations Fright Night
dusk paper and the Pop fashion
stamps
and
rhinestones
.
Way to go Amanda! Email me and I will give you Amanda's instructions...