It seems like people are asking me about this more and more, so much so that I felt led to write about it.
I am a store owner, yes, but more than that I am a teacher. I am not the world's most talented scrapbook artist. Do I come up with some really outstanding layouts from time to time? Yes, but for the most part I consider myself an average scrapbooker. But I love to teach, and I love to inspire my students to find their creative side - to make them see that scrapbooking is more than just a hobby or a practical way to record history.
With a baby, you here all the time: "It goes so fast, enjoy it while you can!" I so agree, and it's so easy to lose sight of those little every day moments you cherish. But do we scrapbook those? No. How likely am I going to forget what it looks like to watch my kids blow out candles on a cake..not very likely, yet how many pictures or layouts of that do I personally have> More than I care to admit.
I found myself last year trying to find new ways to scrap birthdays, trick or treating, opening Christmas presents, going to the (same) pumpkin patch or Christmas tree farm. I was looking toward new paper or embellishments to make my pages fresh...
WRONG!
How about making my pages fresh by taking different pictures? Rather than pose Noah in front of the same pumpkin patch as his sister and older brother, how about I just focus on Noah? Him exploring his surroundings....what does he think about that tractor, what's this? grass? cool stuff! and the joy is captured in the photo
Recently I needed a bunch of pictures for a class I was taking. Rather than pull out 20 Christmas pictures or 20 birthday pictures, I decided to take new pictures. Something I wanted to remember. What's one of mom's best ways to entertain the kids when she is exhausted? Take them to the park and let them run. So decided to capture these moments as something I wanted to remember...Not posed pictures all neat and pretty. Wild pictures of children running with abandon, twirling wildly and just being kids.
The results? Fresh new layouts, and memories I will cherish for a lifetime.
So now, I am focusing on the fun, the moment. What do I want to remember? Instead of making myself crazy trying to capture "that perfect photo" moment...I focus on the moment, and the perfect photo just happens.
And when the perfect photo happens, all of a sudden you start to get fresh new layouts that are exciting again...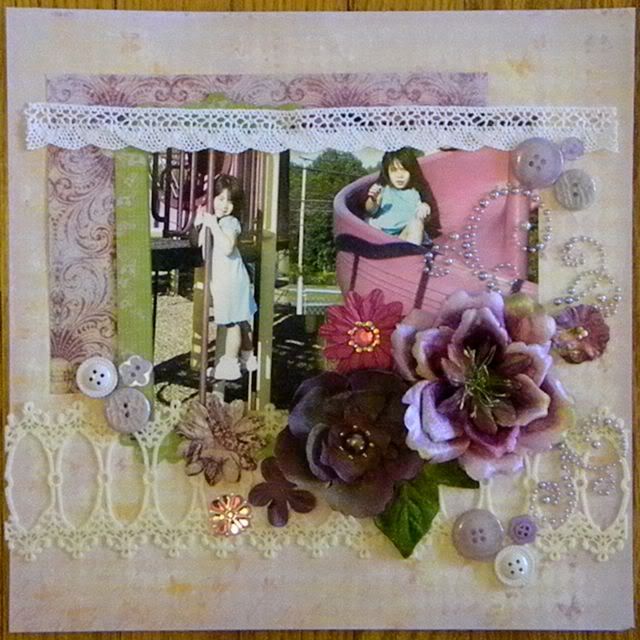 So go out, enjoy life, remember those special every day moments... just don't forget your camera!